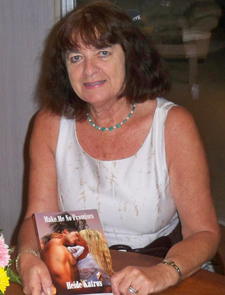 Heide Katros was born and raised in Germany near the French border. She traveled extensively throughout Europe and met her pharmacist husband while on vacation to the Isle of Rhodos, Greece. Heide and her husband Mitch are the parents of two grown sons and grandparents to Alex and Anna. They live with their dog Bibi in Winter Haven, Florida. Heide is an avid tennis player, while her husband enjoys golf.

Heide's very first book, award winning Bewitching Angel was published in 2002 by New Concepts Publishing in Lake Park, GA.

Heide is currently writing her 23rd novel and is working on getting some of her older novels formatted for e-books. She also just finished a short story called Snow Roses for an anthology that will be published in November 2012 by the DCL and coordinated by her good friend and fellow author Kate Hofman.

All of Heide's published books are available through Amazon Kindle, Barnes & Noble's Nook and are also available in not only the U.S.A, but also in Australia, Europe, Canada and the United Kingdom. Or you can simply download them from this website. All e-books are formatted so you can read them on your computer, your laptop, your iPad, your iPhone or any e-reader. Some books are also available in print. Just check it out under Books.

Heide would appreciate hearing from her readers. heidekatrosbooks@aol.com. Nothing makes an author's day more perfect than to have a reader write and tell her that they loved her books.

Follow Heide on Twitter!


ONE MAGICAL NIGHT

ONE MAGICAL NIGHT ~ Now available!

Buy now for Amazon Kindle
Buy now for Barnes & Noble NOOK

Betrayed by his wife, Alain Defours leaves New Orleans behind and retreats to his country estate on Lake Maurepas. Willowbrook Plantation and his horses become his sole focus until a band of gypsies stops by to sell their wares.

One gypsy in particular catches his attention, and her singular beauty takes his breath. However, he dismisses his feelings the moment they arise. No woman will ever capture his heart again, least of all a gypsy.
Seola is mesmerized by Alain's imposing figure. Unfamiliar feelings of longing bloom in her heart, but she knows that nothing can come of it. She is but a gypsy and he is a member of the gentry.
Not long after the strange incident with the gypsies Alain is invited to Grandview Plantation as the guest of honor at a masked ball. He is immediately intrigued by a shy harem girl and asks her for a dance. Seola recognizes him despite his disguise. She is an uninvited guest and cannot stay for the unmasking, but she is determined to make this one night last her a lifetime.
UNBREAK MY HEART ~ Now available!

Buy now for Amazon Kindle
Buy now for Barnes & Noble NOOK
Order in PDF (instant download)
Order in HTML (instant download)

Guilt and sorrow over his wife's suicide drive Wolfram Osterwalt, master of Grandview Plantation, to drink. He is certain that love and happiness are not meant for him. But righteous anger can be a great equalizer. So, when he spies an urchin stealing apples from his orchard, he gives chase. He apprehends the little thief without much trouble, but the lecture he is about to impart dies on his lips, when he realizes that the trespasser is a girl. Their gazes lock in a war of wills.


UNBREAK MY HEART
Sara Auxerre is a survivor. Stealing apples and food from Grandview Plantation are her only means to keep from starving. Too proud to explain her circumstances, too proud to beg for mercy, she waits patiently until he relaxes his grip and escapes across a shallow stream into dense undergrowth.
For the first time in many months Wolfram is intrigued. The little apple thief has left her mark on his consciousness, though he doubts their paths will ever cross again. Sara cannot forget the handsome man either, but she knows that her fascination with him can be nothing more than a dream.
Stephanie Stewart is on her way back to New York after having spent a year as an art student in Paris. As she opens a carefully wrapped going-away present from her boss, she gasps, because she recognizes it as a priceless jeweled box. Stephanie knows she is in trouble. Transporting stolen art across the Atlantic is a crime. But just as she deems everything as hopeless, the stranger from the airport appears at her side. Together they dodge the authorities in a desperate bid to make it to Washington D.C.
For Nicholas it is the end of the line, his dream come true. For Stephanie it is the beginning of the rest of her life... but is it?
KISS ME GOODBYE ~ Now available!

Buy now for Amazon Kindle
Buy now for Barnes & Noble NOOK
Order in PDF (instant download)
Order in HTML (instant download)

The promise is simple. If Nick Andropov is willing to risk his life on a suicide mission to Afghanistan, he'll be guaranteed a new identity and U.S. citizenship. For Stephanie's sake, Nick is willing to do anything.

Stephanie has no idea that Nick is training covertly for the impending mission until the morning he gets his marching orders. Shocked by that unexpected news she is too angry to even kiss him goodbye one last time.


KISS ME GOODBYE
While Nick dodges enemy fire along the mountain ranges of Afghanistan, Stephanie fights her own battles at home. She is stalked by someone who seems to know her every move. The moment Stephanie is notified that Nick died in a helicopter crash, the stalker abruptly ceases to harass her.
But Stephanie is unwilling to believe that Nick is dead. During his life he was a master at subterfuge. She begins to investigate his death and stumbles across a horrendous secret. Her discovery will do monumental international harm, and those behind it have no intention of letting Stephanie live to tell about it.
You might also like these titles by Heide...